Rio Land (RollerCoaster Tycoon Land) is a area for Universal Studios Singapore and all Nintendo Parks, based on 20th Century Fox film,
Rio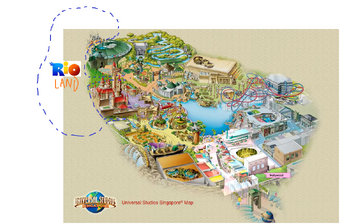 Attraction
Edit
Rio: A Bird's Journey- Join Blu, Jewel and Friends in a Flume Water Ride adventure, where you can explore Rio and Look out for Nigel. This Ride will feature Audio-Animatronics, Digital Projectors and moving action effects.
Pedro and Nico's Birds Party: A Dumbo-Style Attraction, but instead of Flying Elephants is Birds, and Pedro and Nico are on the top of the Attraction.
Blu's Flight School: An enterprise thrill ride attraction. The world's first double-deck enterprise thrill ride!
Nigel's Lightning Strike: A B&M Inverted Coaster is similar to Nemesis at Alton Towers.
Shopping:
Edit
Restaurant:
Edit
Rafael's Casa de Birds: The Restaurant where sells some chinese food.
Luiz's Eat and Chew Food: The Restaurant where sells sandwich wraps, chicken sandwiches, fresh mash potatoes with gravy, coleslaw and French fries.